Service Divisions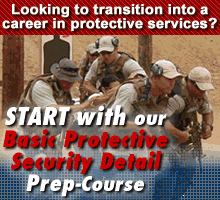 Services Divisions - Law Enforcement & Military Tactical Training
Law Enforcement & Military Tactical Training
"When there is nothing left to do …train …train …train …until there is nothing you can't do."
Our Law Enforcement and Military Tactical Training Division provides formal group training programs, lectures, and seminars to law enforcement, military, government, and private sector organizations.
NOTE: Some courses are restricted to law enforcement and/or military personnel only. Additional courses may also be closed at the request of the host agency and restricted to their personnel only.
Please check the SGI Tactical Training Course Calendar for specific information related to the training course(s) you are interested in. Valid government identification must be presented prior to enrollment.
All of our formal training programs include, but are not limited to the following:
Initial course announcement (e-mailed) listing the course date(s), location, times, equipment list, packing list, area lodging and restaurants.
A course syllabus with course description and learning objectives
Student handouts for each block of instruction
Professionally designed PowerPoint presentations for each classroom lecture
Certified instructors who are recognized subject matter experts
An on-site emergency medical representative
Leadership and team building skills
Extensive practical application exercises
An evaluation of skills and lessons learned
A graduation certificate upon successful completion of the course
Our training philosophy at SGI is to prepare our course attendees for the worst-case scenario by providing them with Progressive, Realistic, On-Going, and Verifiable (PROV™) training. Utilizing this approach, we have developed programs in which we use realistic training in order to replicate real world scenarios without compromising the safety of our clients and staff.
Our training programs are a balance of formal classroom instruction combined with practical application. In the classroom, skills are taught and discussed through lecture, demonstration and various audio-visual media. Skills are further developed through practical application in the training environment. Training programs can be structured and tailored to meet the time, budget, and training requirements of the host organization.
SGI provides Mobile Training Teams (MTT) that will travel anywhere in the United States and to any U.S. allied nation to deliver our training courses. SGI provides state-of-the-art training at a fraction of the cost it would take to send a group to a distant training facility. Training programs can range from one day to several weeks based on the training goals of the host agency. In addition to our hands-on training programs, we offer several lecture and PowerPoint presentations that are ideal for conferences and seminars. We will custom-design and implement a training program for agencies with special requirements.
SGI provides equipment evaluations and product reviews for law enforcement, military, government, and the private sector. We will conduct an in-depth review of equipment and provide a detailed written report of our results. In order for our services to remain current and relevant, SGI is on a constant quest to update training methodologies and develop curricula as technology improves.
Specialized Security Services: