Service Divisions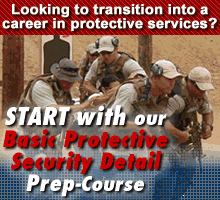 Services Divisions - Workplace for Warriors Program – W4W™
Workplace for Warriors Program – W4W™
Our military service personnel transitioning back into the civilian workplace bring with them enhanced leadership ability, loyalty, unique skills, training and knowledge, which makes them even more valuable as employees. Solutions Group International (SGI) remains committed to these hero's through our Workplace for Warriors – W4W™ program, as we endeavor to do the right thing for those who served their country and are now returning home to face what can be a difficult transition to civilian life.
The SGI Workplace for Warriors program assists military service personnel with the transition back into the civilian security workforce. Our program offers a complete package of employment assistance services, including job training, networking and job placement assistance. The SGI W4W program focuses on providing military service personnel with all of the training needed to increase their marketability within the security industry.
Through our security training programs, candidates are provided with the requisite security training to become certified to perform security services in California, Nevada and Arizona. In addition, SGI will provide those candidates who successfully complete our training with additional instruction in First Aid, CPR and use of the AED unit.
It is our goal through our W4W program to find gainful employment for every service member we train. Our staff will also leverage the resources of the VA, the Department of Labor, the military services' transition sites and other veteran organizations to assist in reaching out to employers to assist with job placement.


Specialized Security and Protective Services Career Track for Military Personnel
The Solutions Group International (SGI) Specialized Security and Protective Services Track is a series of comprehensive training modules developed for military personnel who wish to pursue a career in security or protective services domestically or abroad. This program is geared toward military personnel transitioning back into the civilian workforce and is structured to provide course attendees with the flexibility to work or attend college, while concurrently enrolled in our training program .
Upon successful completion of our training modules, graduates will be prepared to pursue a career in Corporate Security, Executive Protection, or High-Risk Dignitary Protection.
Check out the Career Track for Military Personnel >>>