Service Divisions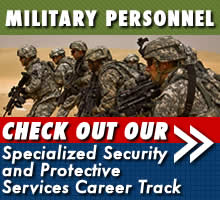 Services Divisions - Security Services
Specialized Security Services
Solutions Group International (SGI) maintains an extensive database of highly qualified and skilled personnel who comprise our Uniformed Security Service Division. SGI only employs former military and law enforcement personnel to perform on all of our security service contracts. In doing so, we are able to ensure that we are hiring personnel who possess the ability to make sound decisions, are capable of maintaining a professional image, and will endeavor to represent both SGI and our clients at a very high level.
Our selection process for uniformed security service personnel includes an initial assessment, thorough background check, and mandatory completion of a 40-hour security-training program developed by SGI. Our comprehensive training program is in addition to any state mandates required for the services we provide. Our program enables us to assure our clients that SGI security personnel exceed industry standards and are capable of providing them with the highest level of quality service. This truly sets us apart from any other security service provider in the country.
In addition, SGI provides all uniformed security service personnel with basic medical, customer service, and client specific training prior to assignment. As part of our employee development program, all employees receive recurring training to ensure they are familiar with industry best practices. Employees who display leadership qualities and attributes are provided with a path by SGI to develop those skills through formal training that will enable them to be competitive for a position as a supervisor and eventually a manger within or organization. Through our employee development program and our generous compensation and benefits package, SGI is able to increase personnel retention and minimize attrition.
Our web-based workforce management system allows our management team to integrate personnel scheduling, accounting, and account performance analysis. SGI is very proficient in account transition, rapidly becoming familiar with the client's needs, processes, polices and systems. We are able to perform this function in a seamless and transparent manner while maintaining complete organizational integrity. The screening, selection and training of SGI personnel are critical to the company's successful track record and long standing relationships with our client's.
Our Affiliations:
- American Association for Industrial Security (ASIS)
- Oversees Security Advisory Council (OSAC)
- FBI Infrastructure Protection (Infragard)
- Lessons Learned Information Sharing (LLIS)